Grandparents Try To Parent My Child
Dear Ask Mom,
How can I deal with grandparents who want to be the "parent?"  I've talked to my friends about this and we all feel the same way. We want to be respectful to the grandparent and say, "Ok, thanks for the parenting advice," (which is usually unsolicited) but at the same time we're thinking, "Back off, this is my turf now…I'm running the show."  I do think grandparents mean well, but it's frustrating when they come in only occasionally but want to tell us what we should be doing. 
I'm the Parent Now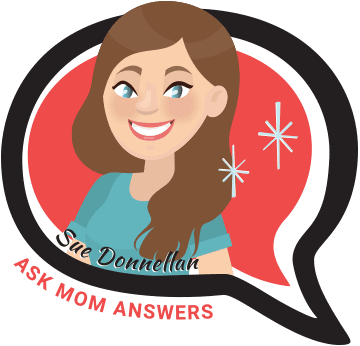 Dear I'm the Parent Now, 
Love this is the age-old challenge of balancing unrequested family offers of help, with our own trial and error, figuring out being a parent on our own. Most of the time, the commenter has no idea how judged and second-guessed their words make you feel. Only you can decide if the parent or in-law has an agenda attached or if they are offering well-meaning information that is just annoying, if not unwelcome. Let my Magic Mantra be your guide: "I'm only in charge of me, I'm not in charge of you."  Repeating this mantra to yourself provides clarity in the moment. You are in charge of how you decide to respond based on whether the advice giver seems to be trying to elevate themselves as the know-it-all or if the advice giver is truly unaware of how second-guessing you undermines your parenting. 
And, only you can decide if the visit is short-lived enough to look the other way with smile and a wave. Or if it's more of a pop-in unexpectedly, all-the-time type of visit, warranting a direct, nurturing conversation. 
Using this example, here are some responses you can give: Parent or In-Law says, "Your kids don't do enough around the house to help out."
"I'm confused, are you saying my kids are lazy or I'm not parenting correctly?" This strategy returns their words back to them so they have a chance to hear how their words landed from your perspective. It provides them the opportunity to refine their comment, offer an apology, or bolster their self-awareness and back off the comments.
"Is that your way of saying you don't agree with my parenting style? If so, please share your specific concern. But overall, I'd love the chance to learn as I go, as you did when I (or spouse) was growing up." This strategy isolates their comment and requests they share something of value or don't say anything. If the first question is too confrontational for you, the second sentence in this example can stand alone. 
Either of these replies, in entirety or a portion of one, can be tailored to fit your situation. 
You are always in charge of how you decide to hear their comments. You can choose to anticipate and ignore the comments during their limited time with you. You can choose to not take their "advice" personally. You can choose to view their comment as their way of being involved and sharing their experiences. Or you can choose to give a variation of the responses above and hope they recognize they are out of turn. Always know, you can choose to meet someone in the middle just by hearing their advice differently. It's all in your hands.