Parental Coaching: 5 Things To Know Before You Get Started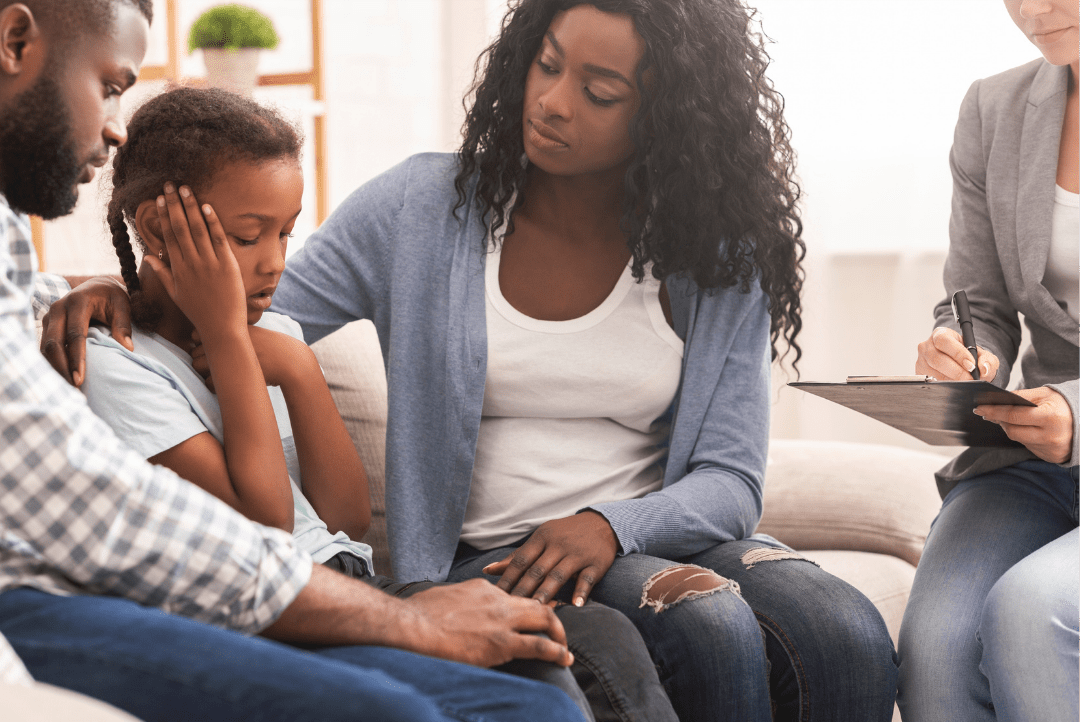 Yelling at the top of your lungs….slamming doors.
You've had enough.
Your house is a wreck. Work is overwhelming, and your kids talk to you less each day.
You're at the end of your rope. 
It wasn't supposed to be like this.  
No one said parenting would be easy, but it shouldn't be this hard. 
As a one-time reluctant parent, former yeller, and mom to 4 (including surprise triplets!) I completely understand. Sometimes it feels like you just need a lifeline. That lifeline might be working with a parent coach. 
Before you get started, here are 5 things you should know about parent coaching services.
1. What Is A Parenting Coach?
Before we dive in, let's talk about what parent coaching is and how it can help your family. 
Parent coaching is a type of consulting and support that meets parents where they're at to provide tools and resources for raising kids. Parenting coaches are there to listen, support, guide, and empower families to create a more peaceful home.
Parent coaching is for brand new parents (who aren't even sure what to do with a baby), parents of teens struggling to get their kids to look up from their phones, and for every age in between!
So what can a parenting coach help you with? 
They can offer a variety of tools to help you understand childhood development, help with stress management, address problem behaviors (like store tantrums) – and even give you tips on positive communication. Parent coaches can also help through transition periods in life, and changes within the family. It can help with the ABC of parenting – from little issues to more complicated ones.
It's important to find the best parenting coach who fits your specific needs. This could mean doing a lot of research or getting on a few consultation calls to get to know who has the best approach for your needs.
Parenting isn't one-size-fits-all! You should find a parenting coach who offers customized plans for your family's specific needs. 
2. Parent Coaches Don't Diagnose 
Before meeting with a parental coach, it's important to understand that most coaches don't have the proper licensure to offer a formal diagnosis. That's ok!
Most parent coaches are highly trained to address difficult parenting situations. They can offer a fresh perspective on your family's current concerns and –most importantly– they can give you new strategies to use.
With that being said, if you're concerned there might be neurological influences on your child's behavior, it's important to find someone who can offer an official diagnosis. 
If your parenting coach suspects your child has ADHD, anxiety, or depression, they can help you find the right resources to get your child the proper evaluation.
3. Parent Coaching Isn't Covered by Insurance
Unfortunately, parental coaching isn't covered by insurance.
Since it's an out-of-pocket expense you'll want to find out some information before you get started.
Many coaches offer a free consultation to answer questions and to see if working together is a good fit. So take advantage of this and book some calls!
Before getting started with a parenting coach you'll want to ask:
What are their fees and prices?

What is their training, experience, or certifications?

What is their approach?

How long are the sessions?

How long do they typically work with clients?

Are sessions over the phone, through video chat, or in person?

How do they handle common issues with clients?
And remember, if you discover some issues that are best for a licensed therapist, psychiatrist or another healthcare professional,  you can check with your insurance company to see if these costs are covered.
Don't forget to ask for testimonials! You're making an investment into your family and your future.
Getting your family to a place of peace is priceless but a common concern people have is results.
Look for testimonials or any case studies your prospective parent coach has on their website. 
Sometimes the best way to make your decision is to see past success stories. 
4. Make Sure You Feel Comfortable Around Your Coach
To become a better parent you must first look within, admit your own weaknesses, and be willing to change yourself.
Being a mindful parent forces you to ask yourself some really hard questions. This is a very important part of the process. When you change yourself for the better, your kids change and you can work on cultivating a beautiful relationship with them. After all, isn't that exactly what you're looking for?
Admitting mistakes can also be very hard so take your time and find someone you feel comfortable speaking with honestly. 
Always find someone who validates your emotions while encouraging you to constructively critique your own actions. A parent coach should never be judgmental and should always approach your sessions with an open mind. 
Because not all families are raised the same way, the parent coach you choose should be culturally competent.
Your parenting coach should be sensitive to how you were raised, your life experiences, and your religious and cultural beliefs because a mutual level of understanding is crucial for success.
5. Change Happens When You Put In The Work
There are so many benefits of parent coaching! It can help build connections within your family, improve communication, and help you parent without tantrums, power struggles, and meltdowns!
It's also important to remember that your parental coach will not be able to fix every problem in your home. (I know, bummer right?) 
When you're feeling desperate, it's easy to want a quick fix to all of your problems but having realistic expectations of your parent coach will set you up for success.
The big question everyone has is, "when will I see change?" Well, it depends on how quickly you're able to put your parent coach's advice into action because that is when you'll see the most change. 
If you feel resistance and discomfort to change, discuss this with your coach. These feelings are completely normal and having an open and honest conversation about how you're feeling will help you work through it together.  Although it may seem hard, working through the discomfort will be well worth it. You can't put a price tag on a happy, peaceful home.
Lastly, trust the process! If something isn't working at home, be honest about it so you can explore other solutions.
Since parenting isn't one size fits all, and your parent coach is there to help you find the solutions that work best for your family. 
Making changes takes time. Behavior and old habits don't change overnight. As long as you and your family are making small changes daily, you'll see positive results over time.
How To Get Started With A Parenting Coach
Do you want to be a peaceful parent but you're not sure where to start?
Are you yelling at your kids more than you're actually talking to them? 
Do you feel like you're running on a hamster wheel, doing the same things over and over again and not seeing any results?
Take a step towards peace by investing in parent coaching services. If you're ready to have more HARMONY in your household, let's chat. You can schedule a FREE consultation call with me. 
In just 20 minutes, you'll get at least one great idea and if it feels like a fit, I'll share how we can work together. 
Parent coaching services are for any parent who wants a positive change in their families. If you need a fresh perspective, new tools, and extra help, coaching for parents could be the perfect solution for you.
I coach parents to empower them so that they can finally have a more peaceful home.
Have you been searching for "parenting coach near me"? If so, you'd be happy to know that I offer parenting coaching services remotely. You can now have the parenting help you need from anywhere.
Click the button below to schedule a call with me.