6 Ways Mother And Child Yoga Can Help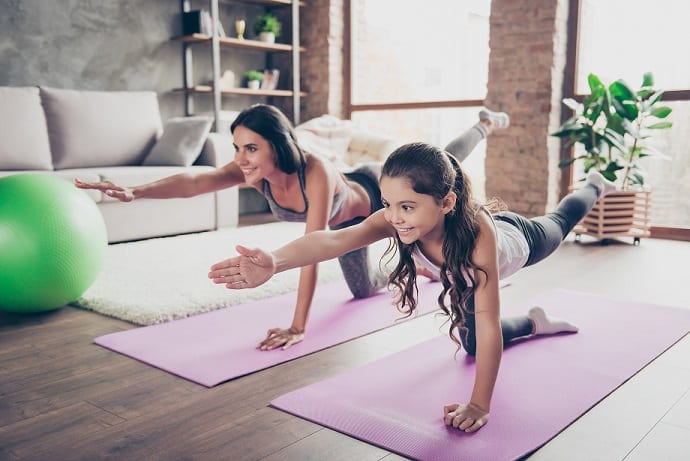 As parents, we may have our own personal exercise habits already developed, but are we also encouraging our kids to form their own fitness habits?
There are many ways to work moving our bodies each day. No matter what movement you choose to do, being a role model for your kids will help them see the importance of making time for their own daily exercise.
We set the example that encourages our kids to prioritize their health as they get older.
A popular activity that delivers mental and physical health benefits for both kids and adults, is yoga. There are a variety of joyful ways to practice yoga as a family. In fact, you could even include adorable goats.
At its most basic level, yoga strengthens muscles and provides a calm way to unwind. It also offers stress-relieving benefits for your kids.
And if we practice with our kids, we get to have an inside glimpse of them while they decompress and unwind.
As their self-protection melts away, sharing this peaceful time with one another opens doors to a deeper connectedness and increased comfort in communicating with you. It's like having your own personal parenting class together where you are feeding your relationship with positive and meaningful time together.
Yoga is fast becoming a popular way to deal specifically with stress and anxiety.  According to a study from NCBI, kids use fewer negative behaviors in response to stress after practicing yoga. As an added benefit, the positive increase in their feeling of well-being lasts up to several days after doing yoga.
A study conducted by Harvard Medical School found that yoga not only increases endurance, strength, balance, and aerobic capacity in children, but it also improves classroom behavior, focus, and self-esteem while reducing both anxiety and stress. That's an abundance of body and mind benefit packed into one shared activity. I can't imagine a better parenting gift to give to our kids than learning this practice together, where it will continue to serve as a stress-reduction tool whenever their life starts to feel overwhelming.
Let's take a closer look at some specific advantages to performing mom and child yoga.
Enhanced Flexibility
Of course, the more you stretch, the more flexible you will become, especially if you make this a weekly practice.
As kids begin to learn how to use all of their muscles in new ways, they master the challenges from each pose.
Being young and pliable, kids see a vast improvement in flexibility and balance fairly quickly.
Improved Concentration and Focus
If your child has a hard time focusing in school, yoga might be the perfect activity to sharpen those skills.
Yoga involves intense concentration to master pose-holds for an allotted amount of time.
Having your child participate in yoga will likely yield improved grades because yoga increases their overall attentiveness.
Strengthened Mindfulness
We've all heard of mindfulness. It's the connection between mind and body, and yoga is a great calming exercise that improves that consciousness.
The world is moving exceedingly fast, and yoga provides kids the time out they need to calm down and get connected with their inner selves.
Kids who engage in yoga will find it easier to find inner peace and keep themselves calm in more stressful situations.
Perfected Balance and Coordination
Yoga centers around balance, and this is where the exercise part of yoga comes into play.
Balance is essentially using your body's weight as resistance to strengthen muscles. If your child has trouble accomplishing simple balancing acts, mastering warrior or cobra poses will improve their balance and coordination capabilities.
As your child tries more challenging poses, self-confidence also gets a big boost.
Increased Self-Esteem
Just like any result-driven exercise, kids will see the fruits of their labor and feel a sense of accomplishment.
The hard work they put in will pay off, and they will see the results pretty quickly, the more they practice yoga.
They might even go so far as sharing their practice with friends, involving more people in their yoga fun.
Yoga teaches persistence and working hard for goals, which is a huge self-esteem booster.
Decreased Stress and Anxiety
A study from NCBI claims that 15-20 percent of children aged 3-18 years old have reduced functioning abilities due to mental health problems such as anxiety and depression.
The study finds that yoga significantly helps the state of mind of those children affected. By practicing yoga, kids learn how to calm their minds and combat negative feelings like stress and anxiety.
Incorporating even 15 minutes of yoga into your child's day can make all the difference in how they handle their mental health challenges.
Now, where to begin?
There are so many different poses you and your kids can do together, but if you haven't been a devout yogi until now, it can be hard to figure out where to start.
Ask Mom Parenting has put together some beginner exercises and poses for you and your child to start, then you can tackle more challenging poses as you build your practice.
5 Beginner Yoga Exercises and Poses for Kids
Below, you'll find easy yoga exercises you can practice with your child.
Mindful Breathing Exercise
Take a deep breath in through your nose, your belly will expand
Breathe out through your mouth (like you are blowing out a candle), your belly pulls in
Repeat five times
Mirror Mirror
Pick a leader
The leader chooses a pose to do and shows it to the others in the group
The other players copy the pose
Change the leader with each round of poses
Tabletop Pose
This is a pose that lays the groundwork for more difficult poses like cat and cow.
Knees are on the ground, hip-width apart, and palms are directly under the shoulders with fingers facing forward.
Your back should be flat like a tabletop. From there you can take a deep cleansing breath in as you arch your back, then release a deep breath all the way out as you round your back, pushing all the air out through your nose.
The arch/round action is called cat/cow.
Child's Pose
This is a re-centering pose that can be done alone or in the middle of a yoga workout as you need to regroup from pose to pose. A child's pose offers a nice back stretch and it also calms the nervous system.
Sit back on your heels and bring your forehead down on the ground in front of the knees while resting your arms either alongside your body behind you or stretched way out in front past your head.
Downward-Facing Dog Pose
This is another pose that many yogis return to throughout their exercise.
Bend forward and place the palms on the ground, then step back to create an inverted V shape with your butt pointing straight up in the air.
Be sure your shoulders are pressed down into your back, not shrugged up around your neck.
This may seem like a simple pose, but it's quite active and cleansing for the body.
After trying these poses and practices, venture out, and see if you can find fun routines you and your child can do together. There are many resources online that include kids in yoga practices. It's all about trial and error.
Start easy and work your way up from there. You might start with a chair pose, but you'll work your way up to the lotus pose in no time.
Tips For Incorporating Mom-Child Yoga Into Your Daily Routine
Introduce the idea of learning yoga together with your child, and explain that it reduces stress and will help you both balance any negative feelings.
Pick a time in the day when you know both you and your child are available. It could be after cleaning up dinner or an hour before bedtime.
Research a few poses and take 15 minutes to engage in yoga every single day.
Make it fun! Play relaxing music or invest in a yoga YouTube channel that includes kids in the mix (like YogaEd or Yoga Education Resources) and practice away.
Final Thoughts On Mother And Child Yoga
The benefits of practicing yoga as a family are vast and far-reaching. By coming together to do something that is healthy, calming, and centering, families can create strong bonds that will last for years to come.
In addition to the emotional rewards, there are many physical benefits to be gained from practicing yoga as a family. From increased strength and flexibility to improved circulation and digestion, yoga has something to offer everyone in the family.
One of the best things about practicing yoga as a family is that it can be done at any time and in any place. There is no need for expensive equipment or memberships – all you need is a mat and some comfortable clothing.
Families can practice yoga together in the living room, in the backyard, or even at the park. And, since yoga can be done at any time of day, it is easy to find a time that works for everyone.
Study Links:
Effects of yoga on inner-city children's well-being: a pilot study
More than just a game: Yoga for school-age children
Yoga for Children and Young People's Mental Health and Well-Being: Research Review and Reflections on the Mental Health Potentials of Yoga